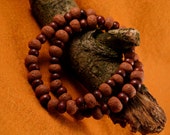 This matching necklace & bracelet set is great for anyone who likes natural looking accessories.
These can be worn by either males or females as they are fairly neutral and are both elasticated.
The bracelet measures approx. 17cm and the necklace is approx. 42cm.
The lighter beads were handmade by myself using polymer clay. The have a great texture to them which goes really well w...
Click Here to Visit My Etsy Shop!
Click to Retweet!