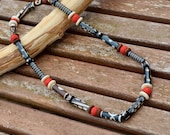 Thanks for checking out my listing, you rock!!
I created this skater style necklace using handmade clay beads, which I shaped and textured myself. I used a selection of hand carved brown bone beads to achieve an earthy, tribal look.
The necklace is elasticated so should fit most. It sits roughly on the upper chest when worn.
I also created a matching bracelet which you can...
Click Here to Visit My Etsy Shop!
Click to Retweet!